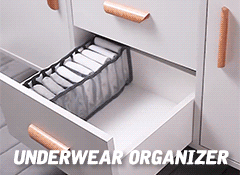 Sort out your socks according to your mood for the day. Pick out matching ties at a glance. Feeling sexy today? Then choose the lingerie that brings out the feel. 
Made from durable nylon mesh, you can twist it, turn it, crumple it and it will still retain its shape! Throw into the washing machine without worrying.
Novel Design - 

 Will allow you to effortlessly tidy up your clothes.

High quality - 

 Strong and durable material.

Very easy to use 

 

- You will 

 save a lot of work and time.
Specifications
6 Compartments (Square): 32cm x 32cm x 12cm
7 Compartments (Rectangle): 12cm x 32cm x 12cm
11 Compartments (Rectangle): 12cm x 32cm x 12cm