🧪Necessity for emergency fluid transfer🧪
Main Features
PVC material:
Rubber hand pump that starts siphoning liquid flow quickly. 1 flexible Durable PVC transparent hoses provide easy reach into containers, petrol resistant, avoid corrosion.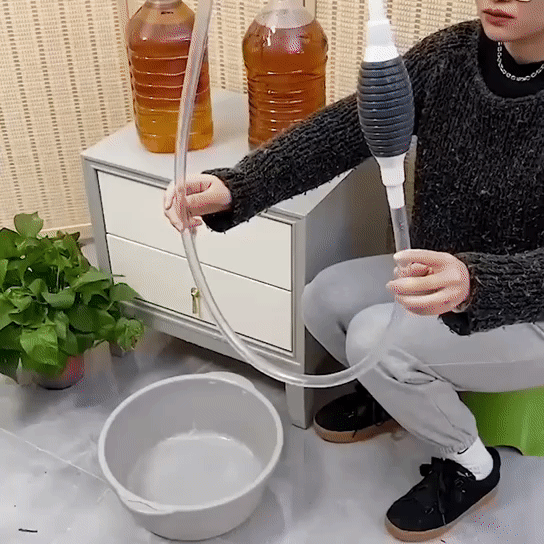 Hand Siphon Pump:
High-flow hoses and large-bore ball pumps are faster at pumping, and the built-in pump allows you to siphon liquid from one container to another.
Easy To Use:
1. Turn the indicator arrow on the rubber ball down.
4. Squeeze the rubber ball 5-10 times.
2 The upper hair pipe is inserted into the fuel tank.
3. Insert the lower pipe into the oil drum.
5. After pinching the rubber ball, the liquid will flow out automatically.
Wide Usage:
This manual water pump is for fuel petrol diesel gasoline oil water and other common liquids also can be a water changer for the fish tank at your home.
Safe Attention
1.Not is suitable for saltwater or corrosive liquids.
2. The fluid you are trying to get rid of has to be up higher than the bucket you are flowing into.
3. Please keep the hose inside of the container not just put it on the surface.
4. Only for vehicles without a gasoline protection grid.
5.The fluid you are trying to extract has to be HIGHER than the influent bucket. The fitting end must be kept inside of the fluid not just on the surface.
Usage Scenarios:
Applicable to various models Suitable for trucks, cars, motorcycles, etc.
Specification:
Product Name: Manual Oil Pump
Materials: PVC
Product Accessories: One airbag/one tube/two buckles
Installation Method: Open the package, install the tube on one side of the airbag, fix it with a buckle, put it into the fuel tank, and press the airbag for a few times.
Product Size:
Airbag Length: 24cm/ 9.5"
Airbag Diameter: 6.3cm/2.5"
Nozzle Diameter: 2cm/0.8"
Tube Wall Thickness: 0.2cm/0.08"
Configuration: clamp, flow valve, built-in stop valve Specifications: 1m/40", 1.5m/59", 1.8m/71", 2m/79", 3m/118"
Tube length can be freely cut)
Package Contents:
40"/59"/79"/118" Car Fuel Tank Sucker × 1