SHARPEN YOUR TOOLS IN SECONDS WITH THIS INDUSTRIAL ELECTRIC SHARPENER.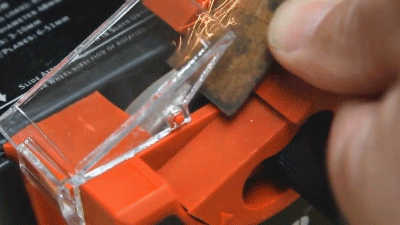 Sharpen every knife on your own like a pro. Quickly, easily and with repeatable, consistent results. It leaves a beautiful sharp smooth edge on all your kitchen-sized knives. Creates the sharpest blades you've ever had! Adjustable cutter head angle: 15 to 50

QUICK, SIMPLE, SAFE, and EASY-TO-USE - Sharpen knives like a pro in the comfort of your home. The adjustable grinding head design is suitable for a variety of knives, scissors, kitchen knives, chisels, etc.

It is very simple and easy to use and is suitable for beginners. Just plug it in, turn it on, and apply your tool. The machine is light and compact to store when you're not using it.
It has a high-speed steel drill sharpener, a knife, a scissor sharpener, and a chisel and plane sharpener. This sharpener has an adjustable tool head angle and strong magnet adsorption at 15 to 50 degrees.
USAGE METHOD
Step 1: Install the grinding accessory part.
Step 2: Push the drill aligner, you could see the drill stop block.
Step 3: Take out the drill lock.
Step 4: Install the drill lock.
Step 5: Push the drill lock and put the drill in the right position, then lock tightly.
Step 6: Loose the aligner, take out the drill lock.
Step 7: Grind the two sides of the drill.
Specification:
Color: Blue, Red.
Rated Voltage: 110V~220V.
Power: 65W.
No-load Speed: 6000 rpm
Maximum Diameter Of Grinding Wheel: 56mm
Grindable Bit size: 3-13mm
Grindable Tool Width: 6-51mm with width limit, removable width is unlimited.
Adjustable Tool Head Angle: strong magnet adsorption at 15-50 degrees.
Weight: 1.52kg.
Diamond Grinding Wheel Size:10mm(Inner diameter). 49mm(Outer diameter).