🌱Lawn Aerator Shoes Loose The Soil🌱
Whether you are gardening or just mowing the lawn, you should have on the right shoes. Otherwise, your feet might sink into the ground and make your job harder. These shoes are a must for all gardening jobs!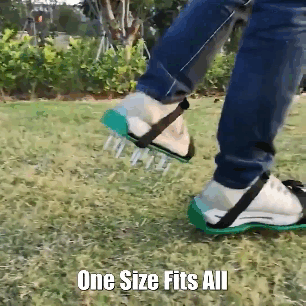 PRODUCT FEATURES:
Simple&Effective Lawn Aerator:Our lawn aerator shoes nails are designed with 26 heavy duty metal spikes 4.5cm in length, the lawn shoes are easy and fast to poke into the deep soil, helping grass absorb water, nutrients and air from the deep roots to make your lawn more green and healthier.
Anti-slip Bottoms: We've put our heads together to come up with an even better-designed version of the aerator shoes which comes with a lug boss on the bottom so the spikes stay securely locked in place. Plus, the anti-slip pads prevent slippage when the grass is wet.
Adjustable Size: Whatever your shoe size is, every pair of aerator shoes come with an adjustable Velcro strap for the exact right fit. Both men and women can use these handy shoes to make lawn maintenance a breeze!
Easy and Fast Assemble:

Lawn aerator shoes come with a FREE small wrench to make the installation extremely easy, you can use it to tighten the nuts that hold the spikes on the shoes. Once the spikes are on, then you can mount the straps in the best slots to fit your shoes. You can wear them while taking an evening walk in the lawn with your family,much fun.
SPECIFICATION:
Material:

PP plastic
Color:

Green
Dimensions:

300x130x5mm
PACKAGE INCLUDES:
1 Pair of Lawn Aerator Shoes
Accessories: 4 shoelaces, one set of screws, one wrench