Ending The Troublesome Work of Repeatedly Changing Drill Bits!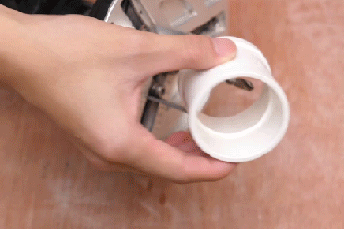 MAIN FEATURES?/strong>
Various Adjustable Diameters: This woodworking hole driller with adjustable multi diameters from 45mm to 130mm, makes it possible to cut holes of different diameters with just one tool, saving money and space.
Fine & Clean Cuts: The three triple tooth blades saw through plasterboard and softwood boards with ease, and ensure fine and clean cuts with their special, straight-set toothing. Triple blade design, straight round effect, smooth cut, and burr-free.
Easy To Use:No complex instructions for use. The infinitely adjustable in just three steps: Loosen; Adjust Simultaneously; Fasten.
Multiple Use:Widely used in woodworking opening, spotlight opening, plastic plate opening, DIY speaker opening, etc, but not for glass and metal.
Compatible Tools:The hole saw is 10mm acceptable for all standard power drills and cordless screwdrivers.
Attention:The cordless screwdriver is only suitable for drilling on gypsum plasterboard, while the power drill can be used on gypsum plasterboard, OSB panel, softwood, plywood and more.
SPECIFICATION:
Material: Nylon, Zinc Alloy.
Size:
Depth: Approx. 30mm/ 1.18inch.
Shaft Diameter: Approx. 8.5mm/ 0.33inch.
Whole Diameter: Approx. 15.5cm/ 6.1inch.
PACKAGE INCLUDES:
1x ROUND HOLE SAW TOOL