Use it to cut wood easily.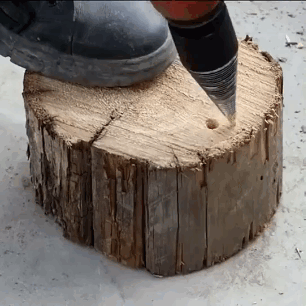 Feature:
1. Our wood diversion drill is made of high carbon steel. High temperature quenching hardness is super strong. It has super strength, impact resistance and abrasion resistance. Long service life, high hardness and super toughness.
2.1.65 / 1.26 inch square shank, round shank and hexagon shank models can meet all your needs and can be used for different types of electric drills.
3. Choose the right electric drill for your electric drill, which is easy to install and use.
4. Just install the drill bit on the electric drill, and then drill holes in the wood, the wood chips will be easily scattered. No need to move the blade or worry about children swinging the axe
5. This multifunctional wood splitter hand tool is very suitable for splitting oak, pecan, walnut and so on. It is widely used in family, outdoor, camping, farm.
Specification:
Material: Steel
Shank shape: round handle / square handle / hexagon
Color: Black
Total length: 42mm/1.65''
Drill diameter: 32mm/1.26''
Package Includes:
1 x Firewood chopper