Are you tired of leveling/spacing systems that just don't work?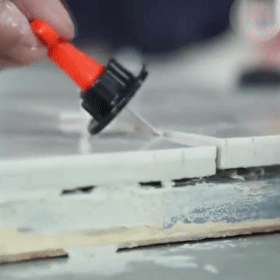 Features:
Tile Leveling System:Our tile levelers are great tools for floor and wall setting, easy to use in DIY operation, it keeps the tile balance on the same horizontal position and prevents tiles from moving while curing.

Durable and Reusable:Our tile leveling system is made of high quality plastic, eco-friendly and durable. Also the T shape needles are constructed with stainless steel, which features wear-resistant and reusable.

Working Efficiently: Equipped with special wrench for working efficiently, it can not only make tile laying speed faster, but also reduce grinding and polishing work for the tile layers.
Wide Application:The tile leveler system can detect whether the tile is level, also can be used to make the diversion slope in the bathroom and kitchen to let the water be discharged smoothly.

HOW TO USE?
1.Insert the T-pin along the crack, then rotate it 90 degrees, clamp the T-pin at the bottom of the two bricks and tighten the adjusting cover so that the two bricks are in the same level.
2.Lay the first piece of brick, seam 2 mm or above., and close to second bricks.
3.Before the cement or tile glue has completely dried up (usually no more than 6 hours), tighten the adjusting cover in the opposite direction, then rotate the T-pin 90 degrees so that the T-pin turns to a zigzag parallel to the tile, and remove the leveler.
4.Clean and dry storage for reuse.
PACKAGE INCLUDES:
50 x DOMOM Reusable Tile Leveling System
1 x Special Wrench

Notes:
1. Please allow 1-3mm error due to manual measurement and make sure you do not mind before ordering.
2. Please understand that colors may exist chromatic aberration as the different placement of pictures.