Never have to go to the car wash to wash your car again!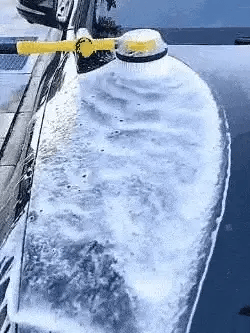 Features:
Automaticly Rotate: 360 degreee freely rotate, no need electricity, it rotates by water power.
High-pressure Washing: Remove the brush head and it will increase hydraulic pressure.
No Scratches: Soft chenille brush and bristles will not leave a mark, make sure a deep clean without scratching your vehicle's finish.
Widely use: suitable for use on cleaning vehicle, boat, windows, glass and more. And it also can be used as garden sprinkling tool.
Automatic Foaming: 250ml transparent solvent pot, automatic foaming, water out, add detergent and cleaning liquid when using, and clean more thoroughly.
Specification:
Name: Multifunctional Car Wash Mop
Color: yellow
Product size: length 100cm/39.37inch
Material: Chenille, ABS
Gross weight(about): 920g
Packing size(about): 19*29*11cm/7.48*11.42*4.33in
Quality(about): adapt to the outer diameter of the tap 16-18mm/0.63-0.71in
Package Includes:
Middle Link Pole*2
Chenille Fluff Brush*1
Faucet Connector*2
Multi-Function Connector*1
Water Inlet and Outlet Switch Connector*1